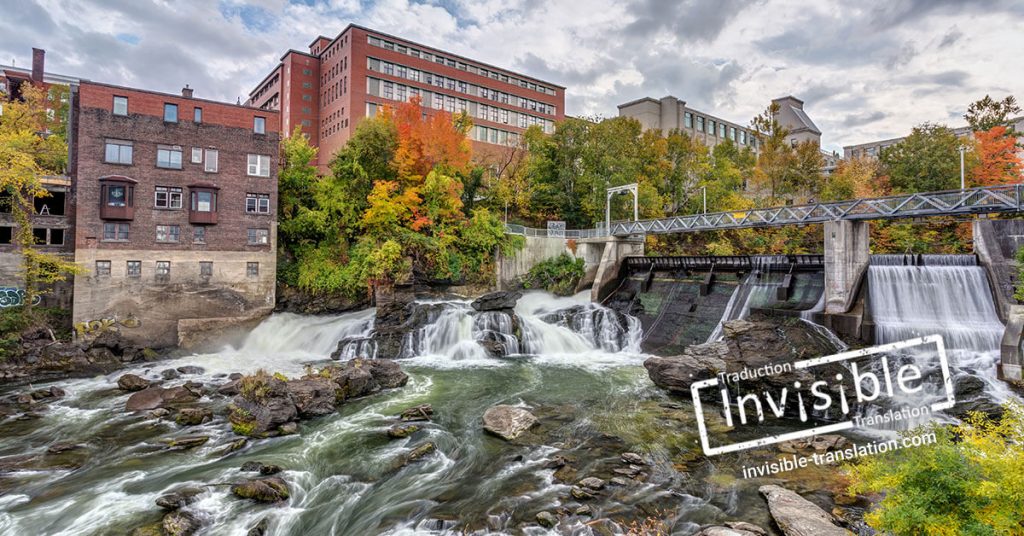 With their emphasis on tomorrow's technologies, Sherbrooke businesses have everything to gain from expanding their trade with neighbouring regions and with other countries.
This article gives a brief description of Sherbrooke and sets out the business benefits that translation can offer the city's firms and entrepreneurs.
Looking for a professional translation service in the Sherbrooke area? Call us!
You have academic credentials or transcripts to be translated? Click here.
What exactly is "translation?"
According to the Oxford Dictionary, it is "the process of translating words or text from one language into another."
In other words, it is a version in another language that conveys essentially the same message as the original.
The main purpose of translation is to make written material accessible to a wider readership by creating an equivalent version in another language.
Did you know that translation has an important part to play in Sherbrooke?
Let's start at the beginning.
A little history and geography
In the Eastern Townships and the Estrie region of Quebec, it was the course of history that brought anglophones and francophones together as neighbours, whether they wished it or not.
After the American Revolution, people from south of the border who chose to remain loyal to the British Crown settled in Sherbrooke, which lies at the confluence of the Saint-François and Magog rivers.
The area is thus home to Anglophones and Francophones, which explains why the rate of English and French bilingualism among the city's residents is 42%, according to Statistics Canada.
By providing a bridge between peoples, translation made good communication possible between English-speakers and French-speakers.
Translator training became a necessity, and authoritative and progressive academic programs were developed in response to the growing need.
Sherbrooke: a green university city
In terms of population, Sherbrooke is the sixth-largest conurbation in Quebec.
It is also a vital hub of learning in the province.
In addition to four colleges, Sherbrooke is home to Bishop's University, one of only three universities in Quebec that operate in English.
Instruction is in English, except in the Department of French Language Studies, where all courses are taught in French.
Sherbrooke is also home to another distinguished academic institution: the Université de Sherbrooke.
The wide range of courses available in the Faculty of Literature and Humanities includes a BA program in translation.
The BA in translation is a three-year academic program, with a co-op option that includes alternating periods of course work and paid placements.
Translation offers an excellent means of stimulating business in Sherbrooke and beyond.
How so?
Bilingualism: a key to future success
Sherbrooke's location just 30 minutes from the US border, and about an hour and a half from Montreal, is in itself attractive to business.
With six industrial parks and two science parks, it is a major centre of national and international commerce.
Growth sectors represented in Sherbrooke include:
life sciences;
clean technology;
micro- and nanotechnology; and
information and communications technology.
Regardless of the business sector a company operates in, sooner or later it has to provide information to build its reputation, gain market credibility, attract business partners and make its products known to as many potential clients as possible.
If language differences can sometimes be an obstacle, how do we make borders irrelevant?
Professional translators: a key to business success
In establishing their credibility at the local, provincial, national or international level, Sherbrooke businesses—large or small—have the benefit of a professional translation service that caters to their specific needs.
Making use of professional translation services represents a wise investment that will yield a quality product and ultimately save businesses time and money.
In Quebec, professional translators who are "certified" are regulated by the Ordre des traducteurs, terminologues et interprètes agréés du Québec (OTTIAQ).
OTTIAQ is a professional association established under UNESCO auspices to promote professionalism in the disciplines it represents.
Sherbrooke firms that market their products and services in foreign languages enjoy many benefits, including:
access to a broader customer base;
a sharper brand image through well-drafted written material; and
the possibility of generating significant profits by selling into hitherto unexploited markets.
Lastly, investing in quality translations can avoid negative consequences like the recall of products or documentation, and the associated expense.
Looking for a translation service in the Sherbrooke area?
You've come to the right place!
Our certified translators and experienced language professionals can get your message across in English, French or Spanish.
We also provide a full range of ancillary language services that will help separate your business from the competition.
Fill out this form today to let us know what your requirements are.
You can also email us the material you want translated, and we will respond with a free quote.