Privacy Policy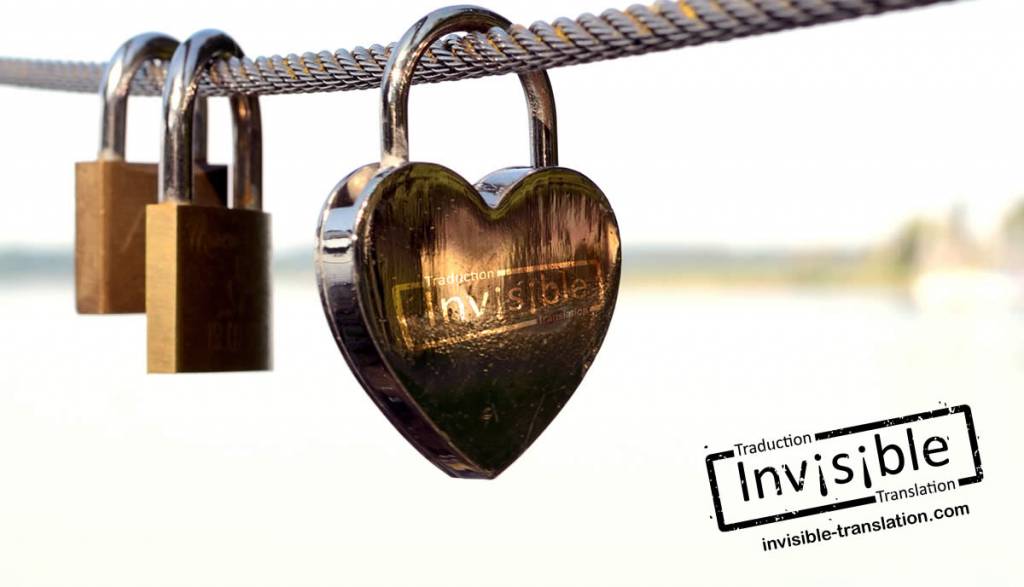 A clear commitment to protecting your confidential information
INTRODUCTION
The INVISIBLE Translation Inc. team ("INVISIBLE," "we," "us," "our") is serious about protecting your personal information and understands its duty to preserve the integrity of its individual and corporate clients ("you," "your"). We have therefore established a strict policy ("Privacy Policy") that addresses how we collect, use, exchange and share the information you provide to us.
PERSONAL INFORMATION
When you use our website, complete a form or send us an email, we may collect data that can identify you personally, and you accordingly agree to the collection and use of your personal information in accordance with this Privacy Policy. If you are less than 14 years old, please do not provide us with such information without the consent of your parent or guardian. When you provide your personal information, you agree to its use for the purposes listed below, and to INVISIBLE's acting as an authorized holder of that information. We may use this information to contact you from time to time. In every promotional communication we send you, you will be notified of your right to unsubscribe from any further communication. You may also advise us of your choice by email to privacy@invisibletranslation.com.
OTHER INFORMATION
We may also collect data that do not identify you personally, such as the time and date of your visit to our website, the IP address from which you accessed it, the link you used to do so, the pages you viewed and the web browser and operating system you used. We may also use "cookies," which are pieces of information sent to your browser by our servers and stored on your hard drive. You can set your browser to deactivate cookies. The cookies we use serve in particular to:
manage user authentication;
acquire statistics from our website and identify our target clientele;
improve your browsing experience by, for example, personalizing the pop-ups you see;
record your preferences.
DATA COLLECTION
We collect your email address when you subscribe to our website or complete a form so that we can email you information material including newsletters, notifications, emails and quotes concerning our products and services. We may also collect your telephone number if applicable. Such information is collected for purposes of communication or to provide services or information requested, or to provide information that may be of interest to you. We may also collect personal information in providing service to you, such as your name and the language, currency and operating system you use, relevant documentation and information about your country to optimize your experience as a user of the services we provide.
DATA USE
We use your personal information in accordance with the privacy legislation currently in force in Quebec, and solely for the purposes listed in this policy, particularly:
to provide and maintain our website, and monitor its use;
to manage your account and register you as a user of our website, so that the personal information you provide can give you access to website functionalities that are available to you as a registered user;
to prepare and execute a contract in connection with products or services you purchase from us, or any other contract with INVISIBLE, particularly those initiated through our website;
to contact you by email, telephone, text message or other electronic means or through information material on functionalities or contracted products or services, including software or security updates reasonably required for their implementation;
to collect statistics and gather information about users;
to provide you with news, special offers, rebates, promotions and general information on other goods, services or events we offer that are similar to those you have purchased in the past or about which you sought information, unless you choose not to receive such information;
to analyse data, identify user trends, measure the effectiveness of our promotional campaigns, and assess and improve our products, services and marketing initiatives;
to complete a business transfer, which means using your personal information to evaluate or carry out a merger, disposal, restructuring, reorganization, dissolution, or any other sale or transfer in whole or in part of our assets, whether in the context of a business continuity plan or a bankruptcy liquidation or any other similar proceeding whereby personal information we hold on our clients and website users is included in the assets transferred;
to make payments and invoice fees that are then indicated to any financial service providers we use, since your payment information is never stored in our databases or on our servers, and such information is collected and recorded solely by our financial services providers, as required;
to automatically personalize your documents with your personal information or contact data;
to provide you with online support at no charge by email, which may require the use of your personal information to assist you in using our website;
to combat and prevent credit card and other forms of fraud through any third-party financial services providers we use, which may require the use of your personal information;
to use the telephone number you have provided if we suspect that information concerning a credit card holder has been compromised or used in a fraudulent manner;
to serve other purposes, the ultimate objective of which is to provide you with quality service and optimize your client experience.
DATA SHARING
All the data of any kind that we collect are and remain confidential. No information is shared with anyone who is not acting as an INVISIBLE Translation Inc. employee, mandatary, subcontractor, contractor or service provider, to name a few, except as required by law. However, as indicated in our Terms of sale, we do delegate work to third parties who perform various functions on our behalf including the provision of printing, delivery, shipping, dissemination, distribution, mailing, routing and transport services. We use various forms of information technology to provide access to our website and enable you to access information about securing a quote or details about the delivery of a service; to arrange digital and cloud storage of our commercial information; to configure, manage, maintain and repair our servers and workstations; to manage client relations; to advertise online; to conduct banking transactions with our clients, including payments and refunds; to keep accounting records and prepare corporate financial statements; to conduct audits; and to execute any other service required by our commercial activities. For these purposes, your personal information is stored in our databases (including through local storage), the databases of affiliated enterprises and databases managed by third-party service providers. These providers may be located in Canada or abroad, including in the United States. Such data will be automatically transferred to those databases, in accordance with the applicable legislation. In using our website, you agree to such cross-border transfers of personal information to the United States and other jurisdictions, as noted above. Following are the providers we deal with:
Communication services
Google
GoTo Connect
Microsoft
Zoho Corporation
Advertising services
Cloud storage services
Amazon S3
Dropbox
Google
Microsoft Azure
Microsoft OneDrive
Zoho Corporation
Financial services
Royal Bank of Canada
Block
PayPal
Stripe
Zoho Corporation
Distribution services
Web hosting services
PlanetHoster
Rapidenet Canada
Site5
Web Hosting Canada
DATA DISCLOSURE
The information we share with our collaborators, including but not limited to our project managers, translators, editors, revisers, proofreaders, writers, programmers and graphic designers, is disclosed solely to those who require access to it in the performance of their duties. Note that all our collaborators have personally undertaken to preserve the confidentiality of your documents by signing a confidentiality agreement to that effect.
USER AND CLIENT RIGHTS
As a user or client, you have a right of access, portability, correction or deletion of your personal information, and a right to withdraw consent to specific uses of such information. While some of these rights apply generally, others apply only in specific circumstances. Such rights may be described as follows:
a) Right of access to personal information
You have the right to access your personal information, obtain a copy of any personal information we are processing, and be informed of any internal processing by us of your personal information. Should you request details as to what personal information we are processing, we will provide the following information at no charge: the objectives of our processing; the types of personal information processed; the classes of person who have access to your personal information; the recipient or recipients of your personal information; the retention period for your personal information; and information on data transfers. Each such request must include all relevant details, including your complete contact information, and should be emailed to privacy@invisibletranslation.com. You have the right to receive our confirmation as to whether or not your personal information is being processed, and if requested, to access your personal information. The person responsible for such processing will provide you with a copy of the personal information being processed.
b) Right to portability of personal information
You have the right to receive your personal information in a structured, commonly used and computer-readable format. Each request must include all relevant details, including your complete contact information, and should be emailed to privacy@invisibletranslation.com. We will make every effort to comply with your request, on the understanding that substantial practical difficulties may limit our ability to do so.
c) Right to correction
You have the right if necessary to request that your personal information be changed, deleted or limited. such request must include all relevant details, including your complete contact information, and should be emailed to privacy@invisibletranslation.com. Note that we can correct, reconstruct or delete incomplete or inaccurate information at any time, at our discretion. You have the right to secure our correction of inaccurate personal information within a reasonable time. Taking the purposes of processing into account, you have the right to complete incomplete personal information, in particular by providing an additional statement.
d) Right to withdraw consent
You may withdraw consent to the processing of your personal information at any time. Should you so request, provided there is no legitimate and substantive reason to continue the processing of your personal information (for example, in order to meet our legal obligations, resolve a dispute, implement an agreement and so on) and the personal information in question is no longer required for the initial purpose, we will delete it. Each request must include all relevant details, including your complete contact information, and should be emailed to privacy@invisibletranslation.com. You have the right, moreover, to secure our deletion of your personal information, and we undertake to delete it within a reasonable time. Your user data as a client will be deleted within a reasonable time after the closure of your account. However, the withdrawal of your consent could terminate our service delivery if we are no longer able to properly perform our work. Lastly, you understand that some personal information provided for the purpose of delivering a service has to be kept on file in order to comply with the applicable ethical rules.
e) Right of refusal
You have the right to request that we refrain from sending you commercial communications and using your personal information when we conduct profiling for direct marketing purposes. You can refuse to receive online newsletters and other commercial communications by following the refusal instructions that are provided in the emails in question or by forwarding a request to that effect to privacy@invisibletranslation.com. Note that even if you refuse commercial communications, messages concerning transactional accounts will not be affected.
INFORMATION RETENTION
We retain information for as long as necessary to provide the services requested by our clients and other parties, resolve a dispute and implement agreements, subject to any legal obligation to retain information longer. Information about your account is generally retained until it is no longer necessary for the delivery of our services, until our ethical obligations have been met, until you request its deletion or your account is deleted, whichever comes first. It is then destroyed in a secure manner. You can delete your account at any time by emailing a request to that effect to privacy@invisibletranslation.com. If you do not delete your account, we may retain and use some personal information for a reasonable time, in particular to pursue legitimate commercial interests, resolve a dispute, conduct audits or meet legal or ethical obligations. Furthermore, we may retain information from deleted accounts in order to comply with the law, prevent fraud, resolve disputes, solve problems, assist inquiries or take other measures authorized by law. The information we retain will be handled in accordance with this Privacy Policy. Notwithstanding the foregoing, we are required to retain our clients' files for at least three (3) years from the date on which the work was completed.
COMPLAINT PROCEDURE
If you wish to make a complaint about the application of this policy, you may do so in writing to privacy@invisibletranslation.com, to the attention of the person responsible for the protection of personal information as indicated under "Contact us," below. Complaints will be dealt with in accordance with current legislation.
AMENDMENT
We reserve the right to amend this Privacy Policy at any time. We accordingly invite you to consult it frequently.
DISPARITIES
In case of disparity between the English version and the French version of this policy, the latter prevails.
CONTACT US
You can reach the person responsible for the protection of personal information at INVISIBLE Translation, Daniel Mainville, by email at privacy@invisibletranslation.com or by telephone at 1 833-436-6331. If you have questions or comments, or if you wish to learn more about our Privacy Policy, we encourage you to email us at privacy@invisibletranslation.com.
Latest update: March 31, 2023